VR FIRE EXTINGUISHER INSTRUCTIONS
VR EXTINÇÃO DE INCÊNDIOS INSTRUÇÕES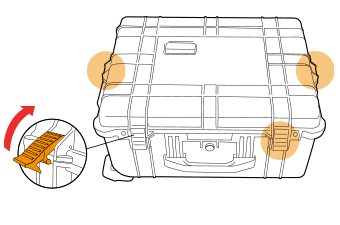 Colocar horizontalmente la maleta y abrirla.
To open the suitcase, place it horizontally.
Colocar a maleta em posição horizontal e a abrir.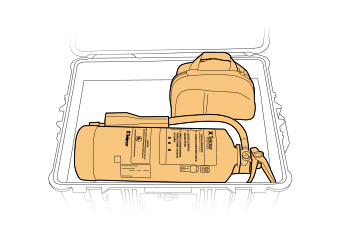 Contenido de la maleta: Extintor y Oculus Quest.
Content of the suitcase: Fire extinguisher and Oculus Quest.
Conteúdo da maleta: Extintor et Oculus Quest.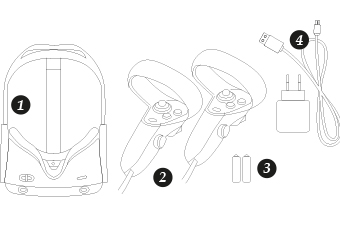 Abrir el maletín y comprobar que están todos los componentes: (1) gafas, (2) controladores, (3) pilas AA y (4) cargador.
Open the case and check all the items: (1) goggles, (2) controllers, (3) AA batteries and (4) charger.
Abrir a maleta e comprovar que estão todos os componentes: (1) Óculos, (2) controladores, (3) baterias AA et (4) carregador.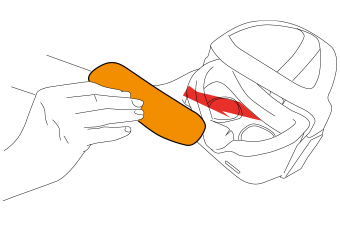 Retirar el protector de lentes de las gafas.
Remove the protective layer from the lens.
Retire o protetor de lente dos óculos.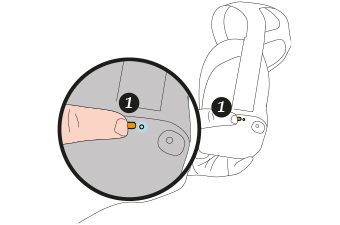 Encender las gafas manteniendo pulsado el botón de encendido durante tres segundos (1).
Press three seconds the ON button to switch on the goggles (1).
Ligue os óculos premendo o botão de ligar durante três segundos.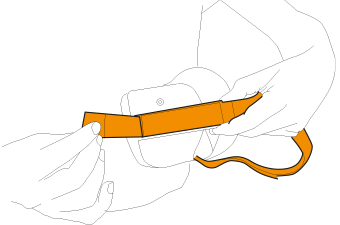 Ajustar las correas laterales y superior al tamaño de nuestra cabeza.
Adjust the straps to the user's head size.
Ajustar as correias laterais e superiores ao tamanho da nossa cabeça.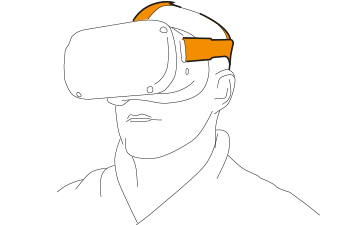 Colocarse las gafas y, si es necesario, reajustar las correas de velcro.
Put on the goggles and, if necessary, readjust the velcro straps.
Colocar os óculos e se for necessário, reajustar as correias de velcro.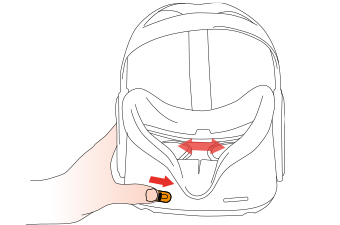 Se puede ajustar la separación de las lentes para mayor comodidad.
Adjust the toggle on the bottom left of the headset until the picture is clear.
Pode ajustar a separação das lentes para uma maior comodidade.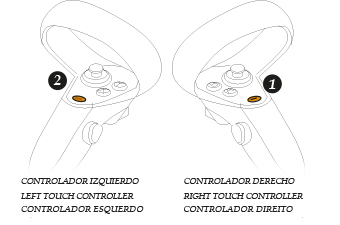 Encender los controladores persionando tres segundos los botones OCULUS (1) en el controlador derecho y MENÚ (2) en el izquierdo.
Press three seconds the buttons OCULUS (1) and MENU (2) from the right and left controllers.
Segurar os controladores. Se não enscenderem automaticamente, premer, durante três segundos, os botões
OCULUS no controlador direito e MENU no esquerdo.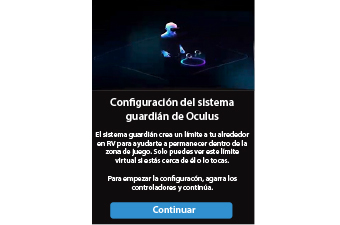 Seguir las instrucciones de configuración del Sistema Guardián.

Follow the instructions to configurate the Guardian Safety System.
Configuração do Sistema de Guardião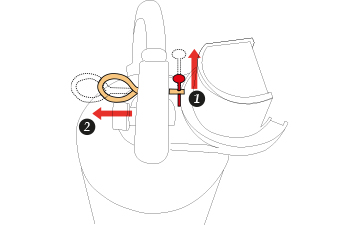 Retirar la anilla. (1) Tirar del precinto rojo. (2) Sacar la anilla
Remove the tamper seal (1) and the safety pin (2).
Retirar o precinto vermelho (1). Puxar a cavilha (2)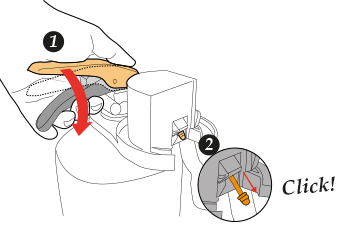 Presionar la maneta (1). Salta y se escucha el chivato del disparador (2).
Press the discharge lever (1) You can hear the trigger (2).
Premir o gatilho (1). Salta e se escuta o «click» do disparador (2).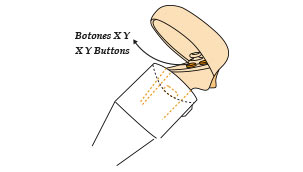 Encajar en la boquilla del extintor, el controlador izquierdo de las Oculus (con botones X,Y), posicionando el botón lateral junto a la hendidura.
Remove the discharge hose, adjust the nozzle, possitioning it in the indentention. (1) The outer flange of the mouth must face the ground.
Retirar a mangueira e ajustar o bico, deslizando-a pela via interior (1). A testemunha do exterior da boca deve estar orientada para o chão.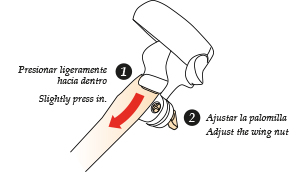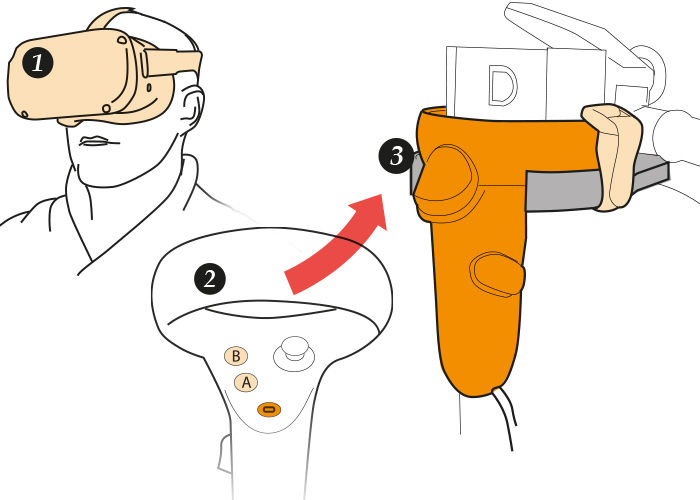 (1) Colocarse las gafas, seleccionar la aplicación: NAVEGAR – BIBLIOTECA – ORÍGENES DESCONOCIDOS – EXTINCIÓN DE INCENDIOS
(2) Situarse en la zona de la experiencia de realidad virtual. Mirar al frente y mantener pulsado el botón de inicio (2) del controlador, hasta que la barra de carga se complete y el escenario se recentre.
(3) Insertar el controlador en el alojamiento circular del extintor.
(1) Put on the headset. In the App select: NAVEGAR – BIBLIOTECA – ORÍGENES DESCONOCIDOS -EXTINCIÓN DE INCENDIOS
(2) Go to the play area. Look straight ahead and hold down the controller Start button, until the loading bar is complete and the stage is re-centered.
(3) Insert the controller.
(1) Colocar os óculos, selecionar a aplicação: NAVEGAR – BIBLIOTECA – ORIGENS DESCONHECIDOS – EXTINÇÃO DE INCÊNDIOS
(2) Situar-se na área para a experiência de realidade virtual. Olhar para frente e manter premido o botão de início
do controlador, até que a carga esteja completa e o cenário esteja centralizado novemente.
(3) Inserir o controlador no compartimento do extintor.
Inicio de la práctica  The Training    Experiencîa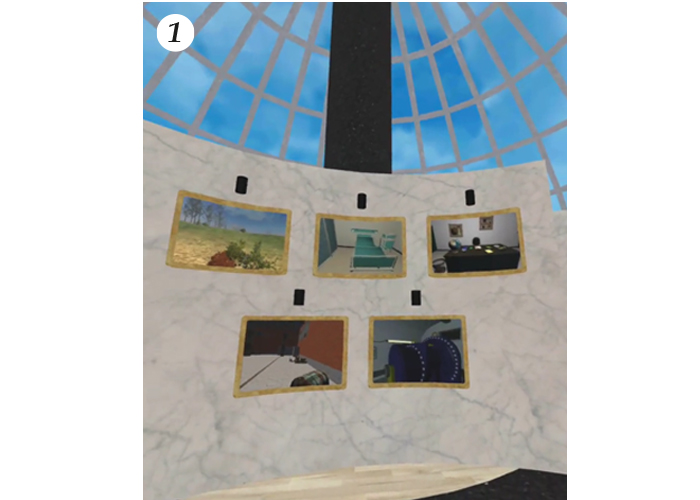 Seleccionar la escena del menú principal apuntando con el extintor y confirmando al presionar la maneta (1).
Select the scene from the main menu by pointing the extinguisher. Press the lever to confirm it (1).
Selecionar o cenário do menú principal apontando com o extintor e confirmar pressionando o gatilho (1).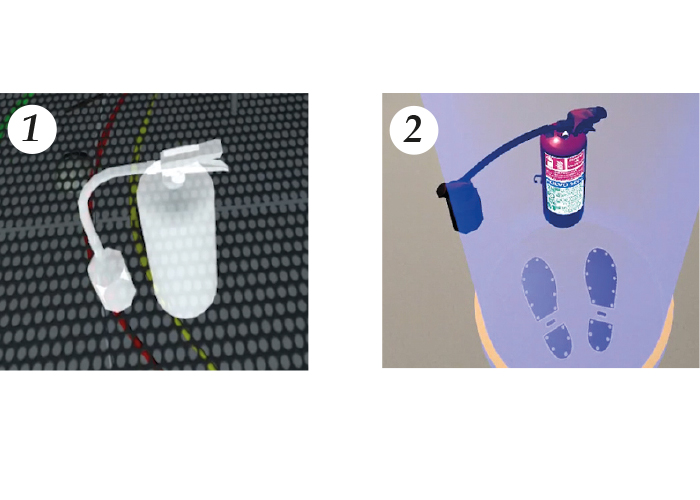 MISIÓN: Extinguir el fuego por completo. Coger el extintor, colocarlo en la posición y orientación indicada por la silueta parpadeante blanca (2). Situarse sobre las huellas (3).
MISSION: Extinguish the fire completely.Take the fire extinguisher, place it in the position and orientation of the white silhouette (2). Stand on the footprints (3).
MISSÃO: Apagar o fogo completamente. Pegar o extintor, colocá-lo na posição e orientação indicadas pela silhueta (2). Situar-se sobre as marcas branca piscando (3).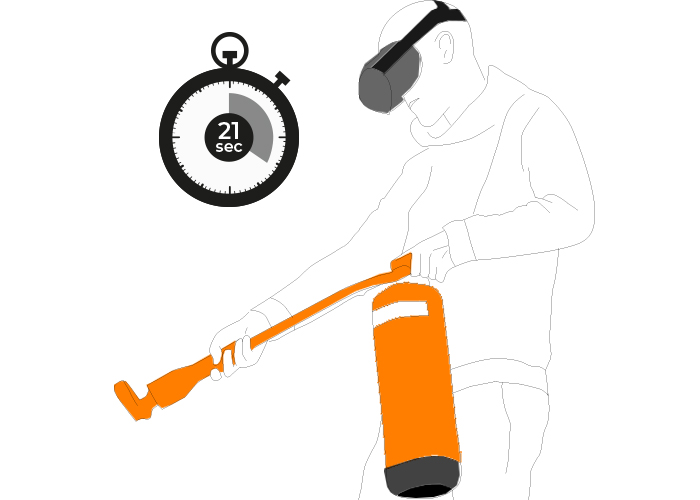 Acercarse a la silueta próxima al extintor, para iniciar el entrenamiento. La expediencia finaliza tras apagar el incendio o cuando se vacía el extintor. Una carga completa del extintor equivale a 21 segundos.
To start the training, approach the silhouette next to the fire extinguisher. The training finishes after extinguishing the fire or when the extinguisher is empty. A full charge of the fire extinguisher lasts 21 seconds.
Aproximar-se à silhueta próxima ao extintor para iniciar o treinamento. A experiência finaliza após apagar o incêndio ou após 21 segundos, quando o extintor estiver vazio.
CONFIGURACIÓN DEL STREAMING · STREAMING CONFIGURATION · CONEXÃO
STREAMING
Conectar el PC o portátil y las gafas a la misma red. Loguearse con el ordenador en la página de Oculus.com
Connect the PC or laptop and the goggles to the same network. Now log in in the Oculus.com website.
Conectar o router. Este cria uma rede WiFi sem conexão à internet chamada VR. A senha de acesso é 1234567890. Se os Oculus Quest não se conectarem automaticamente.
Usar la cuenta de las gafas (incluida en el kit). Entrar en Oculus.com/casting
Navegador recomendado: Google Chrome.
Use the oculus user account (included). Enter in Oculus.com/casting. Recommended browser: Google Chrome.
Entrar na pasta STREAMING e executar o arquivo streaming.bat. A janela de comando se abrirá.
Aguardar que apareça a mensagem: "DESCONECTAR O CABO, ESPERAR 5 SEGUNDOS E PREMIR A TECLA ENTER PARA DUPLICAR O DISPLAY LA PANTALLA".
En las gafas pulsar COMPARTIR. En la pantalla se visualizará el contenido de las gafas.
Press Sharing in the goggles. The contents of the goggles will be displayed on the screen.
Se for a primeira vez que conecta os óculos ao computador: Coloque os óculos. Aceitar e executar novamente streaming.bat.